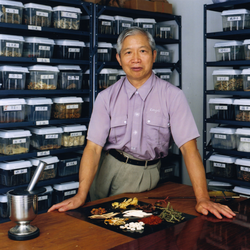 At Harmony Acupuncture & TCM, we listen to our clients carefully and pay attention to your individual needs, because every person is a unique "organic whole" rather than the assembly of separate parts in the view of traditional Chinese medicine (TCM). In TCM, being healthy does not simply mean disease free; it means that all organs, meridians and collaterals are working in harmony, the flow of qi (vital energy), blood and other fluids at ease, and emotions and spiritual state in balance.
We do not simply treat disease and fight symptoms. We work with the patient to find the most effective treatments for them, taking all aspects of their wellness into consideration.
On the first visit, clients are usually offered a thorough evaluation. We will then develop a systematic and holistic healing plan perfectly tuned to your unique ­circumstances. We will use TCM principles and practices to restorethe balance of Yin and Yang, and the normal flow of qi, blood and fluids to optimize your health.
Common techniques used in TCM include herbal formulas, acupuncture, tui na (Chinese therapeutic massage), ba guan (cupping), gua sha (meridian, collateral or acupoints scraping), and food therapies. One or a combination of these methods will be applied to take care of the unique needs of the patient.
TCM can help you with a wide range of health problems including, but not limited to:
Stress, fatigue, depression, anxiety, insomnia, and behavioral problems such as ADHD and autism
Diabetes, hypertension, and cardiovascular disorders
Sports/athletic injuries, and pain management
Menstrual and menopause disorders
ED, BPH and low sex drive
Stroke recoveries, facial paralysis and spasm
Facial beautification, body rejuvenation, dermatologic problems and weight management
Cancer/tumor care
Digestive, respiratory and neurologic disorders
Viral and fungus infections, immune hyperactivity or deficiency, including influenza, lupus, allergy, and HIV/AIDS
Even if your condition is not listed here, feel free to contact us and find out if we can help you or refer you to an appropriate healthcare provider.